Community Features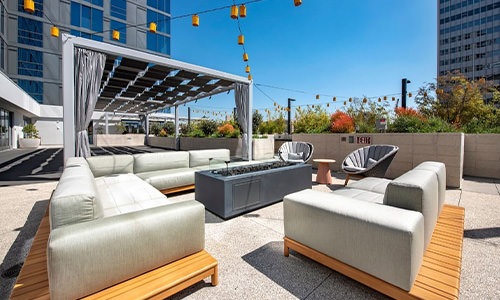 California Deck
The California Deck at AVEN is inspired by the dynamic spirit of the Golden State. It's packed with premium amenities to enhance your day to day life, from a fresh cup of coffee at the Weekend Concession to pamper sessions with your furry best friend.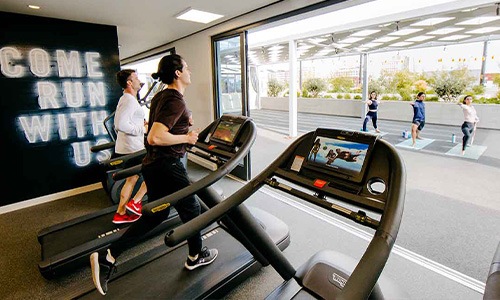 Pro Fit Gym
Ready to elevate your training? Then, work up a sweat at AVEN's state-of-the-art Technogym fitness center and yoga studio. All things considered, everything you need is here, from free weights to cardio equipment, or join our Pro Fit group classes and work up a sweat. Take your gym inside or outside. Overall, it's all up to you.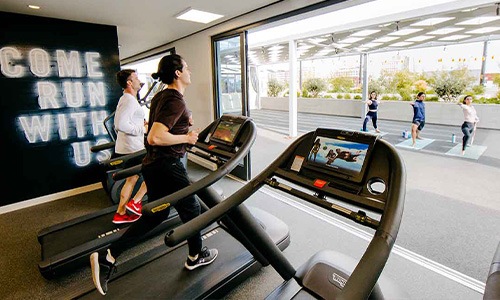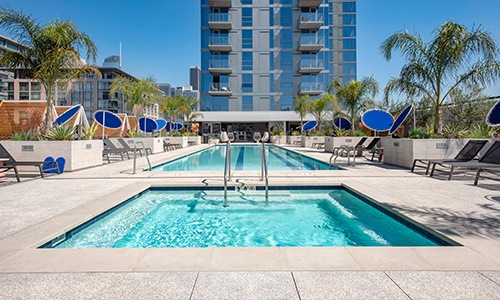 Poolside Retreat
Craving a well-deserved getaway? All you need to do is step outside your door. For instance, practice your strokes in our three-lane salt water pool coupled with that vacation vibe as you settle into lounge chairs with sunshade and cabanas. Then, enter a world of relaxation with the 14-person spa. After all, your Aven home is your very own oasis within the city.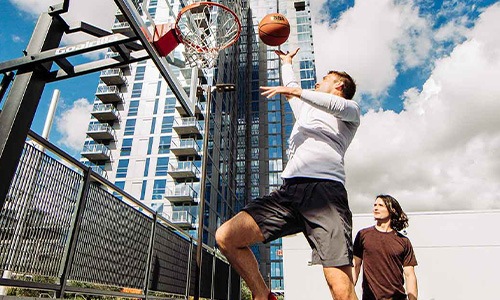 Basketball Court
Is basketball more than a game? Then, practice your skills at AVEN any time of day with all the gear you need. Residents have access to our basketball half-court. After that, watch LeBron and the Los Angeles Lakers at Staples Center just minutes away.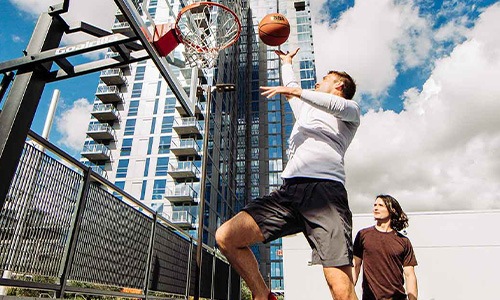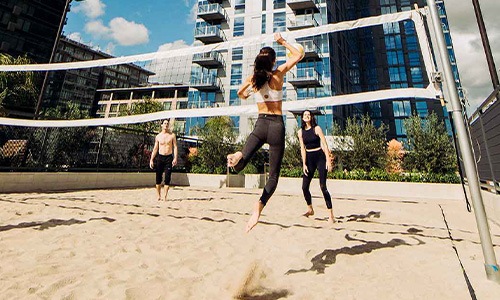 Beach Volleyball
AVEN takes fitness to a new level with beach volleyball, featuring real sand for the ultimate exercise. In addition, with all of the AVEN volleyball gear stocked for you, you're always ready to get competitive with neighbors and friends!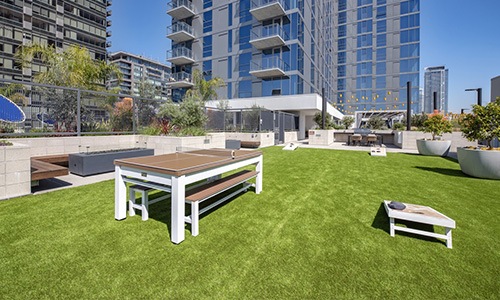 Active Lawn
Want summer year around? If so, let the Active Lawn transport you back to those carefree days. Get your best mates together and have a mouth-watering BBQ party and trade stories while lounging by the fireside. Then, take it slow and bask in the clear, sunny skies of LA, play a bit of ping-pong. After, end an awesome day with summer movie nights. Lastly, stop by our monthly resident events taking place at the Active Lawn.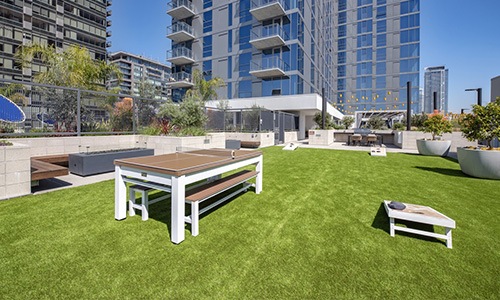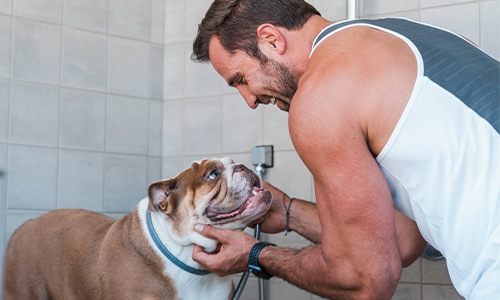 Wooftop park and spa
AVEN's Wooftop Park and Spa is sure to get those tails waggin' like crazy! Moreover, sniff out new friends at our dog park, and play to your heart's content with the agility equipment. Above all, Wooftop park is a haven for pets and owners alike.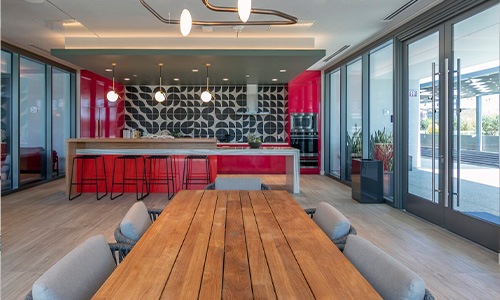 Event Kitchen
This private, reservable event space features a full service kitchen with floor to ceiling operable doors for a unique indoor/outdoor dining experience. Host a small get together or plan a special date night while enjoying the fresh air and greenery outside the Event Kitchen on our 7th floor California deck. All of our amenities are regularly cleaned and sanitized to ensure the community stays happy and healthy.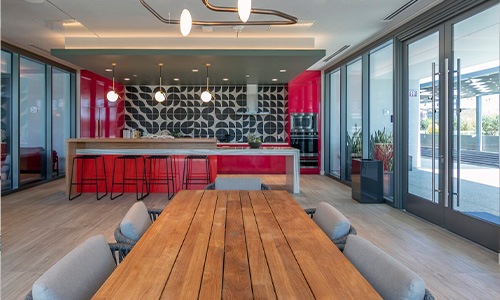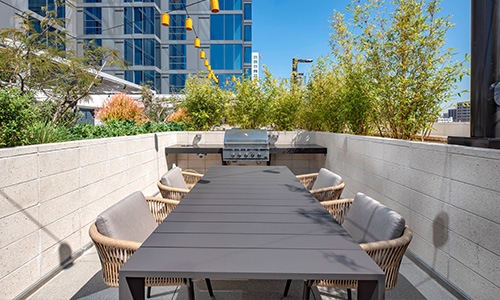 Bamboo Garden Dining
Looking for an intimate setting to host friends and family for dinner? Then, AVEN's Bamboo Garden offers three private dining areas with built-in BBQs. Also, don't worry about running up and down from your apartment. In fact, we've got prep carts that make it easy to bring down all your necessities. In addition, we provided a full-size event kitchen nearby to handle all your hosting needs.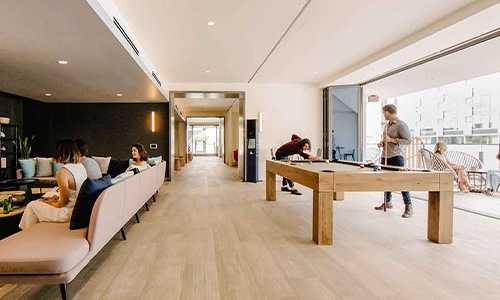 Grand Lounge
Get a taste of the grand life as you go through our indoor/outdoor Grand Lounge. This magnificent hallway nestles three social spaces – a pool table, a movie room, and fireplaces. Above all, you can unwind by yourself or welcome guests to your home.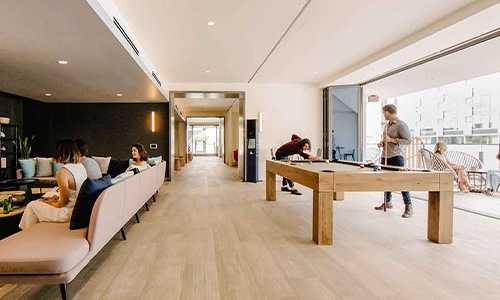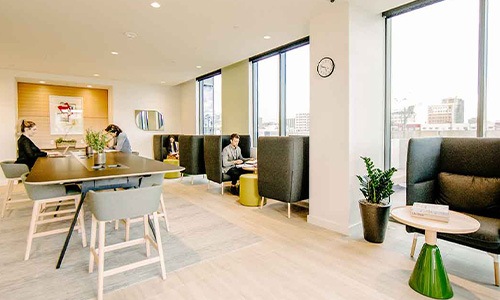 Colab
Max out your productivity by getting work done in AVEN's indoor/outdoor co-working lounge! For instance, utilize our conference rooms that feature lots of workstations, presentation TVs for your business meetings. Additionally, the working lounge includes standing tables and desk seating for reading and working. All in all, a great place to check off everything on your to-do list.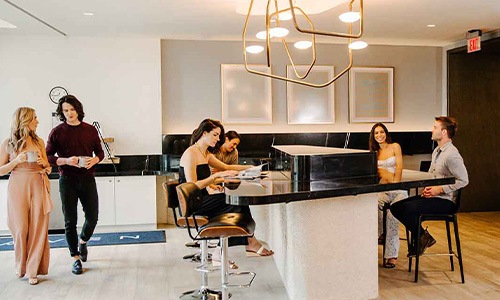 Weekend concessions
Start your weekend with a freshly brewed cup of coffee from our Weekend Concessions, before stepping out onto the Grand Lounge Patio to read the morning headlines. Also, stop by the Everytable SmartFridge in the Weekend Concession for fresh and healthy meals made available 24/7. That is not all! Additionally, we have a Stockwell Smartfridge filled with all of the essentials. That includes La Croix soda and apple products. All in all, everything you need is located on the California deck.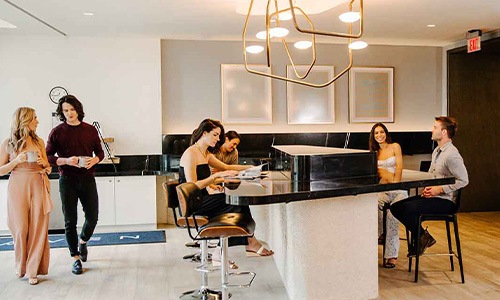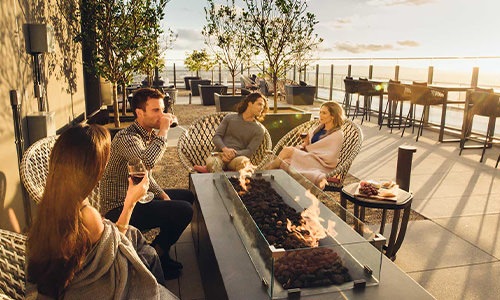 Ojai Deck
Reach new heights at the Ojai Deck, located on the 32nd floor of the AVEN. Sip a glass of red wine by the fire in full view of the iconic Hollywood sign and surrounded by the stunning Los Angeles skyline. If you're in the mood for nature, AVEN Park has 13,000 square feet of gorgeous landscaping, trees, open space, and shade to satisfy your thirst for the outdoors.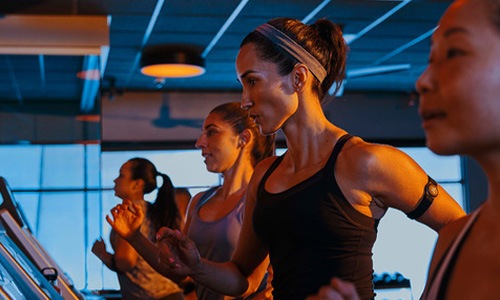 Orangetheory Fitness
Take advantage of the total-body group workout now with the reduced class capacity to maintain social distancing/physical distancing or enjoy virtual classes from the comfort of your living room with Orangetheory's virtual fitness classes.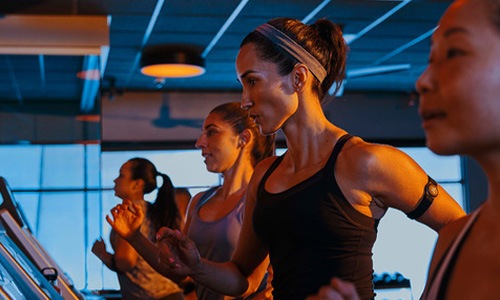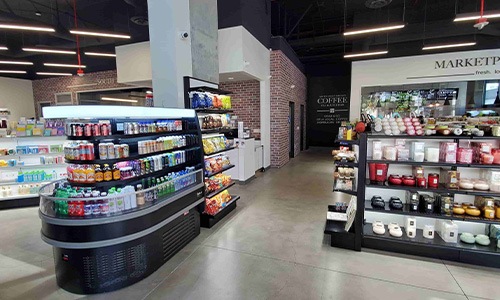 South Park Pharmacy
South Park Pharmacy is your convenient, one stop shop for everything you could possibly need. The Marketplace features prepackaged food, drinks, and a Cafe that offers your favorite drinks made to order. With a kombucha bar and an on-site pharmacy for all of your medical needs, SPP is a welcome addition to the AVEN community, where health and wellness are always our priority. Follow them on Instagram.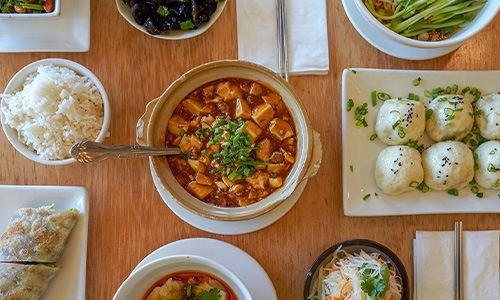 Vivian Ku's New Concept
Vivan Ku and the Pine & Crane team are expanding their duet of restaurants into a trio with a brand new restaurant concept on the ground floor of AVEN. Featuring ample outdoor seating facing the park. The new eatery will carry a full liquor license, meaning Taiwanese breakfast, casual lunch, and cocktails with dinner. AVEN is excited to welcome this new addition to the neighborhood in Spring 2021.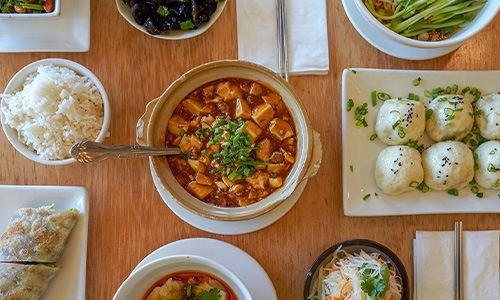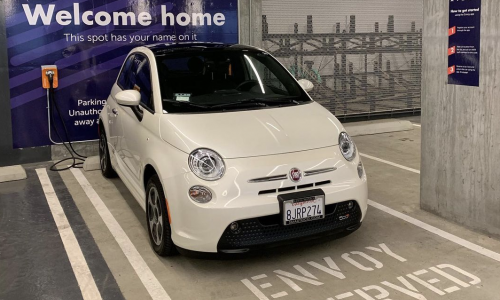 Envoy
Envoy is a community-based electric car sharing service and platform, providing electric vehicles as an exclusive amenity to AVEN. Envoy electric vehicles are conveniently located on property with dedicated parking spaces and EV charging stations and can be reserved through the Envoy car sharing app. Mobility as an Amenity™ where you live, work or stay